Namibia, May 2009
Participants: Rolf Becker and Alma Moller.
Trip account by R. Becker and photos by A. Moller.
Alma and I spent the month of May collecting Euphorbia in beautiful Namibia. The country is huge and unfortunately we did not have sufficient time to cover all of it. Hence, we focused on the middle and southern regions, leaving the Kaokoveld and Caprivi for another time. After crossing Botswana via the Trans-Kalahari Highway, we arrived in Gobabis, Namibia and were greeted by two species of the subgenus Chamaesyce. Heading north we collected E. venenata at lake Otjikoto and after a visit to the Etosha National Park headed south-east, past Khorixas to Twyfelfontein and then south to Uis. Along the way we found E. gariepina, E. damarana and E. virosa.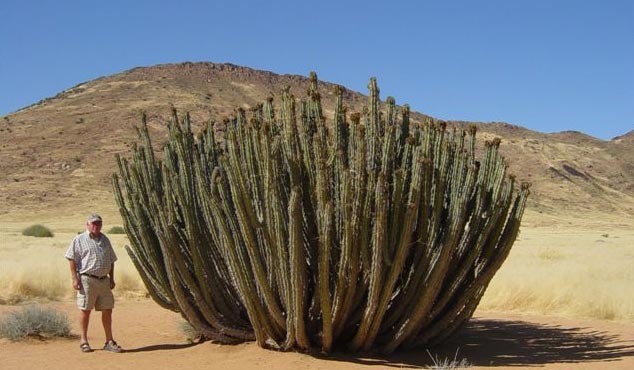 Rolf and the mother of all Euphorbia virosa, near Uis.
After visiting the graves at Uis where, according to legend, some twenty migrant workers died in the sixties after using dry E. damarana bushes to barbeque their meat, we headed to the Skeleton Coast. Along the way, while crossing the Namib dessert, we met up with the striking Welwitschia mirabilis, a stunning and ancient desert plant, before collecting E. giessii in the Lagunenberg near Cape Cross. From there it was south to Swakopmund and then on to Windhoek where we met Dr. Ezekiel Kwembeya, curator of the Namibian National Herbarium and Wessel Swanepoel, a local Euphorbia enthusiast. The hills around Windhoek have a healthy population of E. spartaria, but unfortunately we dipped on E. monteiri that also grows there. Heading south we crossed the Khomas Hochland and dropped down the escarpment to the Namib dessert. In the Spreetshoogte Pass we found E. lignosa, two herbaceous Euphorbia species and some beautiful E. guerichiana shrubs. The drive from Helmeringhausen to Luderitz yielded an unidentified "stick" Euphorbia, E. avasmontana, more E. lignosa, E. mauritanica, E. decussata, E. dregeana and E. gummifera.
| | |
| --- | --- |
| | |
| Alma searching for E. lignosa cyathia. Spreetshoogte Pass. | Cyathium of E. lignosa. |
On the Luderitz peninsula we set out to find E. chersina, E. angrae and E. veruculosa. E. chersina are common, but we found only one population of E. veruculosa and dipped completely on E. angrae. Returning inland we staked out the feral horses of the Namib (which look just like any other horses) at Aus and were rewarded with E. namibensis and another two species of the subgenus Chamaesyce near the view point. The road from Aus to Rosh Pinah produced the highlight of the trip for me. We had stopped to photograph E. lignosa plants growing next to the road and I was already back in the car when Alma started waving frantically - she had found a population of the diminutive and unbelievably cute E. juttae. Near Rosh Pinah we located E. melanohydrata and travelling inland we soon found the imposing E. gregaria, often totally dominating the macro-flora of the plains around the Fish River and its canyon. A "short" sojourn to Karasburg and Warmbad was necessary to pick up voucher specimens for E. friedrichiae, E. spinea, and E. rudis. From there it was back to Windhoek to deposit the material with the herbarium, followed by the long trek home, again through Botswana. Oh yes, I almost forgot - we also saw some lion, cheetah, black rhino, elephants and other mammal stuff , as well as some birds in the Etosha National Park. Some other meaningless statistics are: 9453 km driven in 143 hours, using 1912 litres of petrol. Finally, a big thank you to Paul Berry and the PBI for the financial support and a special thanks to Jeff Morawetz for his tireless endeavors to arrange the permits.
| | |
| --- | --- |
| | |
| Graves on southern edge of Uis - the tragic consequence of a barbeque using dry E. damarana as fuel. | E. damarana, the Namib and Rolf. |
Cyathia of E. chersina.

E. virosa - a poisonous species.

Euphorbia sp. (subg. Chamaesyce)
near Helmeringhausen.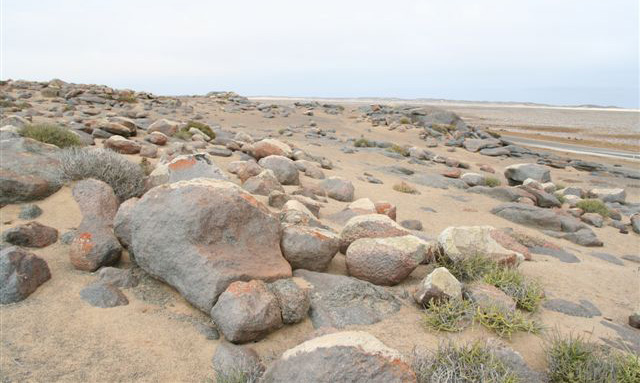 E. giessii along the Skeleton Coast.
Old Welwitschia mirabilis and young Rolf!