New collaborating scientists from Turkey and Spain
Jul 2012
Patricia Barbera from the Real Jardín Botánico de Madrid just started collaborating building the content for species web pages of several Euphorbia of Northern Africa. We also welcome Aysun Patterson and Onur Yanar, two graduate students from Istanbul University, who have recently joined our project network.
---
---
Ya Yang, one of the graduate students associated with the Euphorbia PBI team, just got her Ph.D. degree!
12 Dec 2011
Dr. Ya Yang was working on Subgenus Chamaesyce for her dissertaion project under the supervision of Prof. Paul Berry at the University of Michigan. The title of her dissertation is "Phylogenetics of Euphorbia subgenus Chamaesyce: reticulate history, evolution of diverse photosynthetic systems, and radiation in the Hawaiian Islands".
---
28th Succulent Plants Symposium, Huntington Botanical Gardens, California
3 Sep 2011
Brian Dorsey, one of our graduate students working on Euphorbia at the University of Michigan, participated in this interesting symposium aimed to succulent plant growers, collectors and the general public. The title of Brian's talk was "Systematics of the xerophytic and succulent Euphorbia".
---
Three new publications on Euphorbia by our students and collaborators
Aug-Sep 2011
Yang, Y., and Berry, P.E. 2011. Phylogenetics of the Chamaesyce Clade (Euphorbia, Euphorbiaceae): Reticulate evolution and long-distance dispersal in a prominent C4 lineage. American Journal of Botany 98: 1486-1503.

Geltman, D., Berry, P.E., Riina, R., and Peirson, J. 2011. Typification and synonymy of the species of Euphorbia subgenus Esula native to the United States and Canada. J. Bot. Res. Inst. Texas 5: 143-151.

Pahlevani, A. and Riina, R. 2011. A synopsis of Euphorbia Subgen. Chamaesyce Raf. (Euphorbiaceae) in Iran. Ann. Bot. Fennici 48: 304-316.
---
Two publications on Euphorbia subgenus Esula by our PBI collaborators in Europe.
Jun-Jul 2011
Barres, L., Vilatersana, R., Molero, J., Susanna, A., and Galbany-Casals, M. 2011. Molecular phylogeny of Euphorbia subgen. Esula sect. Aphyllis (Euphorbiaceae) inferred from nrDNA and cpDNA markers. Taxon 60, 705-720.

Frajman B., Schonswetter, P. 2011. Giants and dwarfs: Molecular phylogenies reveal multiple origins of annual spurges within Euphorbia subg. Esula. Mol Phylogenet Evol. 61: 413-424.
---
A new publication on cyathium development.
Jan 2011
"Is LEAFY a useful marker gene for the flower-inflorescence boundary in the Euphorbia cyathium?", G. Prenner, I. Cacho D. Baum and P. Rudall ask this question in a research paper just published in the Journal of Experimental Botany, Vol. 62(1). Kudos to our collaborators for this new contribution to the understanding of the complex inflorescence of Euphorbia.
---
A taxonomic revision of the genus Euphorbia in India!
Jan 2011
This new book, "The genus Euphorbia L. (Euphorbiaceae) in India - A taxonomic revision" (Dec 2010) is a more than welcome publication, since India is an important center of diversity for Euphorbia, with an interesting assemblage of lineages and several endemisms. The authors, M.S. Binojkumar and N.P. Balakrishnan, have kindly agreed to collaborate with our project as editors and contributors for the taxon web pages of the Indian centered species of Euphorbia.
---
A new Masters student, Keeley Briggs, joins our PBI team at the University of Michigan.
Jan 2011
Keeley is interested in museums and collections and she will be working at the MICH herbarium gaining experience through her involvement in different PBI activities related to our Euphorbia collections at MICH and helping with the organization of digital collections and literature (protologues) data which will be part of our digital monograph of Euphorbia.
---
Euphorbiaceae types will be digitized at the Geneva herbarium (G).
Dec 2010
The first week of December 2010 Ricarda Riina worked at the Geneva herbarium (G) examining Euphorbia types. During that visit she learned that the family Euphorbiaceae was among the group of families selected for the Geneva type specimens digitization project. This is very important for our PBI project because this herbarium hosts one of the richest Euphorbiaceae collections in the world, including numerous types and historical collections.
---
Subgenus Esula working group meeting in Ann Arbor, Michigan at the end of October.
Oct-Nov 2010
Dmitry Geltman and Ricarda Riina will spend a month in Ann Arbor working closely with Paul Berry and Jess Peirson on several subprojects related to our work on the phylogenetics and taxonomy of the leafy spurges ( Subgenus Esula).
---
Euphorbia symposium at the XVIII International Botanical Congress (IBC) next year.
Sep 2010
There will be a symposium dedicated to recent studies on the genus Euphorbia at IBC, and several of our collaborators and students are planning to attend and give talks about their research. The congress will be held in Melbourne, Australia, 23-30 July 2011. The deadline to submit abstracts that could be considered for the Euphorbia symposium is Oct 31 2010.
---
---
A new name for UNIN: The "Larry Leach Herbarium".
Sep 2010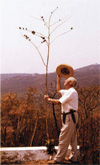 The Herbarium UNIN at the University of Limpopo in South Africa has now been officially named the Larry Leach Herbarium. This herbarium hosts a very important collection of southern African Euphorbia, most of them collected by Larry Leach himself. In addition to some 600 specimens collected by Leach, the collection also consists of close to a thousand samples in the spirit collection, hundreds of photographs and volumes of Leach's personal (hand-written) field notes and taxonomical observations.

For more information contact Rolf Becker at rbecker@mweb.co.za or have a look at the August issue of the journal Euphorbia World where our collaborators Rolf Becker and Alma Moller have an article developing this story with additional details on Larry Leach's contribution to the knowledge of the flora of South Africa.
---
Evelyn Roe, a new collaborator working in Zambia.
Sep 2010
Evelyn Roe, a field botanist and ecologist, has recently started to do some fieldwork for our project in Zambia. Specifically she is interested in collecting and documenting Euphorbia species occurring around the Victoria Falls area and in the Kalahari Sands vegetation. We hope to have some reports from her fieldtrips pretty soon.
---
Jess Peirson, a new postdoc, joins our team in the Berry lab.
Jun 2010
Jess will be based in Ann Arbor, Michigan, and will be working on multiple aspects of the PBI project, including work on the Flora of North America treatments, collaboration with the phylogenetics of Subgenus Esula subproject, labwork, and building the content for selected taxon web pages.
---
Upcoming conferences: Spain and the USA.
May 2010
Barcelona, Spain, Jun 7-9: Paul Berry and Laia Barres will participate in the "II Catalan Conference on Flora Conservation", held at the Jardín Botánico de Barcelona. Paul will give a presentation about relevant aspects of the PBI Euphorbia project in relation to plant conservation. Laia will talk about her studies on the genetic diversity of Euphorbia margalidiana, a species endemic to the Balearic Islands. Following the conference P. Berry, J. Molero, and R. Riina will visit different localities of the Pyrenees to look for several endemic euphorbias. After that P. Berry and R. Riina will be working at the MA herbarium in Madrid for another week.
Botany 2010, Providence, Rhode Island, Jul 31-Aug 4: Several of our students and collaborators will be presenting results from their research on Euphorbia at the Botanical Society of America conference this Summer. Follow the links on each presenter's name to preview abstracts: Horn, Steinmann, Dorsey, Morawetz, Faboyede, Jin.
---
Dmitry Geltman continues with his research on Boissier types.
May 2010
Dmitry will be visiting the Paris herbarium (P) in mid June to continue his revision of Boissier Euphorbia types. Besides his herbarium work, Dmitry will be taking a short field trip to Fontainebleau (France) where a rare Euphorbia, closely related to E. Esula, occurs. He is also planning a field trip to Central Asia for this summer shortly after this visit to France.
---
New initiatives from South Africa.
May 2010
Rolf Becker and Alma Moller have been invited to do the genus Euphorbia for the "Flora of the Eastern Cape". They are also contributing with a field guide project for the Succulents of South Africa, providing wonderful photos of Euphorbia species from the numerous field trips they have conducted all over the country.
---
Two new publications on Euphorbia from the New World.
Apr 2010
Ivalu; Cacho, a former graduate student of our PBI group, recently published part of her doctoral dissertation. Her article is entitle "Are spurred cyathia a key innovation? Molecular systematics and trait evolution in the slipper spurges (Pedilanthus clade)" (American Journal of Botany 97(3): 493-510. 2010.).
Mark Mayfield and Victor Steinmann described a new species from Mexico (E. spellenbergiana in Subgenus Chamaesyce). Their work was published in Acta Botanica Mexicana 90: 43-50. 2010.
---
Dmitry Geltman attended symposium in Moscow, Russia.
Apr 2010
Our collaborator D. Geltman participated in the XII Moscow Plant Phylogeny Symposium dedicated to the 250th anniversary of Professor Georg Franz Hoffmann, Mar 2010, where he presented preliminary results from his research on Phylogenetic relationships between Eurasian and North American species of Euphorbia subgenus Esula (Euphorbiaceae).
---
Meeting in Paris - Subgenus Euphorbia working group.
Mar 2010
Thomas Haevermans, Paul Berry, and graduate students Xavier Aubriot and Brian Dorsey met in Paris the first week of March. They discussed issues related to their work on phylogenetics of Subgenus Euphorbia, Madagascan Euphorbias, and the status of the students dissertation projects.
---
Inventoring Euphorbia: recent collecting trips.
Mar 2010
Plant collecting work by our collaborators has been done recently in Madagascar, Seychelles and Mauritius, Mexico, Cape Verde, and South America (Peru, Chile, and Argentina). Check the Fieldwork page for further details.
---
Jeff J. Morawetz moved to Rancho Santa Ana Botanic Garden, California.
Jan 2010
Former PBI postdoc Jeff J. Morawetz moved to California to start a new postdoc experience at Rancho Santana Botanic Garden. Jeff will be working on a different plant group as his main research subject (his beloved Orobanchs!), however, he will continue collaborating with our Euphorbia project on different fronts.
---
A new publication on Euphorbia subgenus Lacanthis.
Dec 2009
This publication by Haevermans and collaborators is the first step towards the taxonomic revision of a very difficult group of Euphorbia: the Malagasy relatives of the Crown-of-Thorns (Euphorbia milii) group. For more information see: Haevermans T., Rouhan G., Hetterscheid W., Teissier M., Belarbi K., Aubriot X. & Labat J.-N. 2009. Chaos revisited: nomenclature and typification of the Malagasy endemic Euphorbia subgenus Lacanthis (Raf.) M.G.Gilbert. Adansonia, ser. 3, 31 (2) : 279-299.
---
Euphorbia Seed Atlas launched!
Dec 2009
A new publication series documenting seed diversity in Euphorbia ("Euphorbia Seed Atlas") was recently launched. The first installment was published in the December 2009 issue of Euphorbia World (vol. 5, #3, pages 26-29), which included a page of introductory text and the first 3 seed plates. Be sure to check out future issues of Euphorbia World to see the upcoming installments of the Euphorbia Seed Atlas!
---
Tackling the Malesian Euphorbias.
Oct 2009
Hajo Esser, our collaborator from the Munich herbarium, visited the Leiden herbarium as part of his contribution in revising the Euphorbia occurring in Malesia (i.e.: SE Asia excluding Indochine). Euphorbia has never been revised for Malesia, so we are looking forward to this important contribution.
---
Dmitry Geltman second visit to the USA in 2009.
Sep-Oct 2009
Our collaborator Dmitry Geltman from the Komarov Institute (Russia) came to the United States in the Fall of 2009. This was his second visit to USA since the PBI project started, and he visited several herbaria, including: A, GH, KSC, MICH, MO, and NY. Dmitry worked on an annotated list of subgenus Esula native to North America, which is now the base for the Flora of North America treatments for the subgenus. Geltman is also preparing a paper about the status of E. esula and E. virgata in North America as a result of this visit.
---
One of the graduate students in the PBI project successfully defended her PhD thesis!
Aug 2009
Ivalu Cacho, from the Botany Department of the University of Wisconsin-Madison, successfully defended her thesis on Systematics of the Slipper-Spurges (Pedilanthus clade - Euphorbia). Ivalu's thesis covered aspects of the molecular systematics and trait evolution in the Slipper-Spurges and she was also testing a ring-species hypothesis in a Caribbean Euphorbia species-complex. Her advisor was Prof. David Baum.
---
A group of Euphorbia PBI collaborators met at the Botany & Mycology Conference in Snowbird, Utah, USA.
Jul 2009
Paul Berry, Nico Cellinese, Mark Mayfield, James Horn, Jeff Morawetz, Ben van Ee, Ya Yang, and Ivalu Cacho gathered in Snowbird to talk about different aspects of the project and future directions. Several PBI collaborators and graduate students gave talks or presented posters about their research on Euphorbia. See the Botany & Mycology 2009 website and search abstracts containing the key word Euphorbia (five abstracts). Our bioinformatics expert Nico Cellinese also presented the most recent developments of our web data base TOLKIN.
---
Dmitry Geltman visited other PBI collaborators in the USA.
Apr-May 2009
Our collaborator Dmitry Geltman from the Komarov Institute (Russia) just finished a very productive visit to the USA where he met with Paul Berry, and members of the Berry lab. Dmitry also visited and worked with our collaborator Mark Mayfield at Kansas State University. Two graduate students interested in Euphorbia of North America, Jin Wenchi (Berry lab) and Angela Post (Doyle lab at Cornell), went in the field on a separate trip with Dmitry and Paul. They covered several west and midwest states searching for populations of the invasive Euphorbia esula and other invasive and native species of subgenus Esula.
---
New collaborators, students, and postdocs.
Apr 2009
We are pleased to welcome new participants in the Euphorbia PBI project. New PhD students in the project are: Jin Wenchi, Angela Post, and Yasaman Salmaki. We also have a new postdoc, Pablo Carrillo-Reyes, working on the taxonomic revision of Euphorbia sect. Portulacastrum under the supervision of Victor Steinmann. Finally, several collaborating scientists have joined us: Inês Cordeiro and Maria Biatriz Caruzo from the Instituo de Botanica de Sao Paulo (Brazil), Shahin Zarre from the University of Tehran (Iran), and Emily Wabuyele from the East African Herbarium (Kenya). Visit our Participants page for more information about these new collaborators.
---
Inventoring Euphorbia: first collecting trips of 2009.
Apr 2009
Field work is a central part of our project and the first part of 2009 has been very productive. So far, this year our collaborators have worked in Brazil, Madagascar, Kenya, Tanzania, and the USA. If you want to read more about some of these trips, and see where else our PBI collaborators have been working, check the Fieldwork page.