Tanzania, Apr 2009
Participant: Jeff Morawetz
Cyathium of Euphorbia grantii.
I spent one month in Tanzania collecting Euphorbia. Arriving from Nairobi, I first collected in northern Tanzania, being based in Arusha. I worked with Neduvoto Mollel from the National Herbarium of Tanzania (NHT) and William Kindeketa of the Tanzania Botanical Research and Conservation Programme (TBRCP). We collected around Same in Kilimanjaro Region, and found 9 species in only half of one day in the field! Of particular interest to me was finding the woody E. cuneata in both flower and fruit, a species that evaded me in Oman. We also collected E. buruana, E. gossypina, E. heterochroma, E. nyikae, E. quinquecostata, E. scheffleri and at least two species of the formerly segregated genus Synadenium. After collecting in the north, I went with William down to Dar es Salaam to meet Haji Suleiman of the University of Dar es Salaam Herbarium (DSM). The three of us headed to western Tanzania, collecting around Sumbawanga, Mbeya, Iringa and Morogoro before returning to Dar es Salaam. We found several woody species including E. espinosa, E. matebelensis and the somewhat succulent-yet-woody E. grantii. The most interesting species of the formerly segregated genus Monadenium that we collected is E. neospinescens, a small tree with spines on the trunk and branches, and also with sharp points on the leaf teeth and a very spiny midrib on the lower surface! We managed to collect a few succulent tree species such as E. candelabrum, E. cooperi var. ussanguensis and E. obovalifolia. We also collected species of Synadenium where we found them. Western Tanzania is quite rich in herbaceous and woody shrub species, and we were able to collect E. benthamii, E. crotonoides, E. cyparissioides, E. depauperata and several species of subgenus Chamaesyce.
| | |
| --- | --- |
| | |
| Cyathia of E. candelabrum. | Haji and William, plant pressing in Sumbawanga. |
I would like to thank the Tanzania Commission of Science and Technology (COSTECH) for allowing me to collect in Tanzania, as well as my local contact Dr. Flora Ismail, Head of the Botany Department, University of Dar es Salaam. I also thank Frank Mbago (DSM) for following up with my permit and paperwork before my arrival, and arranging for me to work with Neduvoto and Haji, and of course to Neduvoto and Haji for working with me. Many thanks go to both William Kindeketa and Roy Gereau (Missouri Botanical Garden) for allowing me use of their TBRCP vehicle as part of our research collaboration, and for answering innumerable e-mails in advance of my trip. Sasa nilirudi Marekani (USA). Nilifurahia kabisa safari Euphorbia yangu ndani East Africa!
| | | |
| --- | --- | --- |
| | | |
| Two individuals of E. cooperi var. ussaguensis. | Cyathia of E. espinosa. | Habit and habitat of E. gossypina (light green). |
| | |
| --- | --- |
| | |
| E. depauperata. | Cyathia and fruit of E. crotonoides. |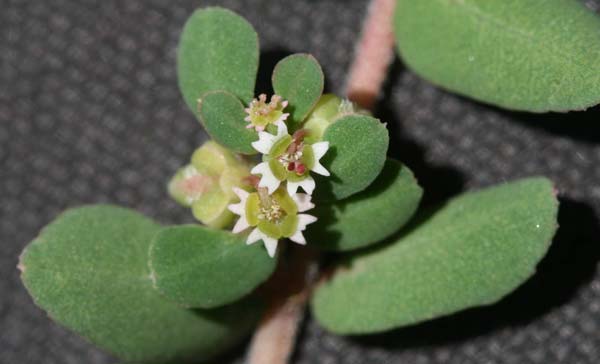 Euphorbia sp., subgenus Chamaesyce.