Venezuela, Dec 2008
Participants: Ricarda Riina, Maria Beatriz Rossi Caruzo, and Carlos Reyes.
This trip was actually Maria Beatriz's trip to collect Croton in Venezuela, and I went along with her and collected Euphorbias. In our first trip to Venezuela in January 2008 we could not collect plants because we did not have the collecting permits at the time. We were happy to get all the paperwork done and this time we went to the field and got a couple of interesting Euphorbias. Euphorbia laurifolia was very easy to find (along the road and also cultivated as a fence), but E. lagunillarum, a rare species only known from the type locality of the arid slopes of the Venezuelan Andes, was very hard to find. We spent several hours walking and hiking around the type locality of that species until we finally spotted one individual, and then three more individuals close by. It was a very exciting discovery! Even if E. lagunillarum seems to be rare in its natural habitat, it spreads easily in cultivation (I have seen it as a weed in greenhouses hosting big Euphorbia collections). We also collected E. orbiculata, E. cotinifolia, and several more common species such as E. graminea, E. heterophylla, E. lasiocarpa, E. hirta, E. hypericifolia, E. insulana, and several other Chamaesyce which are still waiting to be determined.
Many thanks to the staff of the National Venezuelan Herbarium (VEN), and the Herbarium of the Universidad de los Llanos in Guanare (PORT) for helping us in many ways, and to the Ministerio del Ambiente of Venezuela for providing the collecting permits.
| | |
| --- | --- |
| | |
| Searching for E. lagunillarum in the dry thorny vegetation near San Juan de Lagunillas. | E. lagunillarum. |
| | |
| --- | --- |
| | |
| Cyathia of E. lagunillarum. | Cyathia of E. graminea. |
| | |
| --- | --- |
| | |
| The foliage of E. laurifolia turns read at this time of the year. | Beatriz and Carlos with E. laurifolia. |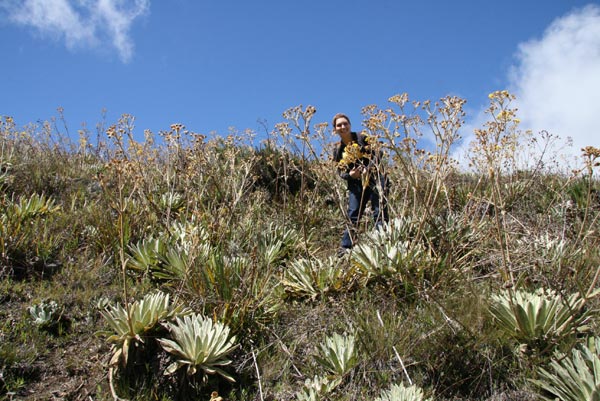 On our way to the Andes we made a short stop and enjoyed the beautiful Paramos.